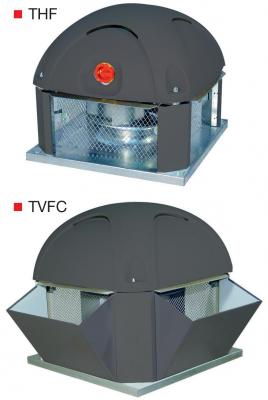 Roof exhaust fan with horizontal discharge or vertical (THF) (TVFC - vertical discharge by means of a cover for smoke extraction).
Aplicación:
Exhaust air from kitchens.

Fire extraction systems in office buildings and residences.

Ventilation in industrial and tertiary buildings.

Advantages:

Elegant and solid design.

Minimum dimensions due to unidirectional vertical exhaust cover.

Certified to work at 400 ° C / 2h.

Standard integrated proximity switch.

Optional - the ability to connect external controllers.

Maintenance Kit tilt.

Controllable flow through inverters or transformers.
Composición:
Drive motor fixed on a plate supported by a column of four feet with a suction hole at the bottom.

Turbine made of galvanized steel with an aluminum cube, completely balanced.

Electric motor, IP55 protection, phase 400V / 3, Class F

Hidden support and pre-painted sheets.

Engine protective cover:

Made of polypropylene.

Four small cuts to ventilate the engine.

And integrated proximity switch.

Directive cover vertical exhaust.

Protective grille on the fan made of galvanized steel.

RAL 7015.
Accesorios:
CART backstop gate type.

Uninsulated support base, H = 300 mm CPT type.

Support glass, sloping roof (the roof angle has to be determined by order) H = 300 mm type CTI.

PLV flange connection type.

Fire resistant flexible connection type MAN.
Texto para oferta:
Roof exhaust fan with horizontal discharge (THF) or verical (TVFC) for smoke extraction (400ºC / 2h).

THF or TVFC type ATC.
Ejemplo de pedido:
Explanation:
THF = horizontal type fan;
TVFC = vertical discharge
32 = nominal diameter impeller
4-8 = Number of poles, 2 speeds
T = Power supply 400 V - 3ph; M = 230V - 1ph